Pound Dog Programs
Please call for details.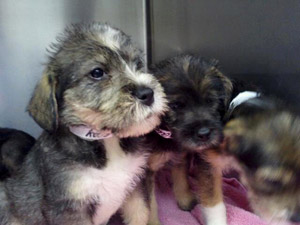 Dr. Wilcox helped start and administer the mandatory spay-neuter programs in Mahoning and Columbiana County. Those programs are still in existence and still very successful.
Trumbull County does not have an effective mandatory spay-neuter program at this time like our neighboring counties.
I can't think of one reason why not to have a mandatory spay-neuter because spay neuter is the answer, warehousing animals is not! I urge you no matter where you live to write, call, email your county commissioners or administrator and ask them to be PROACTIVE and make mandatory spay-neuter the law in your county. It just makes sense to help the pet overpopulation problem and reduce costs to taxpayers for pound upkeep, maintenance, and damages done to personal property or people done by stray or biting stray dogs.
I'm at a loss why dog pounds have become a political pawn and decisions for animals are made based on politics not by veterinary professionals or educated animal husbandry individuals with the best interest of the animals at heart.
Good news, Animal Welfare League is building a state of the art facility that will serve as a humane society, adoption center and REPLACE the pound. That will mean the elimination of the TC pound completely!
Please go to animalwelfareohio.com to learn about the new shelter and DONATE! The sooner we get the funds the sooner we can build and CLOSE the Trumbull County Dog Pound FOREVER!!!!!!!!!
The best news is ALL animals that leave the new facility will be spayed or neutered PRIOR to adoption. This is the best case scenario. The most successful and well-run shelters and pound have this pre-adoption spay-neuter policy in place. It will effectively help reduce the number of unwanted pets and reduce the pet overpopulation problem. In the long run, this saves taxpayers money and pets lives!
We thank the many good people who adopted and participated in our pound program. We have met many nice people, saw some really great dogs come through our clinic.
Save a dog… adopt from the pound or shelter!