Feral Cat Spay/Neuter Policies and Procedures
Feral Cats or TRAP NEUTER RELEASE CATS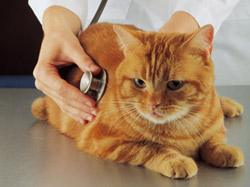 In order to participate in feral cat spay/neuter services at our clinic, please review the following policies:
Ear tipping is recommended for all feral cats. In order to visibly identify an altered, free roaming cat to avoid future transport, stress, and anesthesia, 3/8'" of the left ear tip is removed for males and right side on females.
We do tattoo females with a simple green line on the belly.
We understand that there are no guarantees that you will successfully trap the cats in a feral colony that need sterilization. We ask that you make tentative reservations for the clinic and notify us if you will not be able to keep the reservation.
Feral cats will only be accepted in wire traps or crated.
Due to our anesthesia protocol, each cat must have its own trap prior to and following surgery.
We want the cats to be safe when anesthesia is given and be able to recover in comfort. If that is not possible provide additional crates to house multiple trapped cats in post surgical. Please bring the additional trap/housing at the time of drop off. It is impossible to move some cats once awake due to being ill tempered and feral!
We require all cats be tested for feline leukemia and FIV including feral cats.If a cat tests positive, it will only be euthanized upon a team decision that includes the veterinarian and the caretaker of the colony. The team will take into consideration factors including:

A.) a positive test
B.) Visible signs of serious or fatal illness
C.) Colony Caretaker's ability to care for and monitor the animal's health and
D.) The existence of alternative resources for the animal ie to be house indoors as to not spread these deadly diseases.

See our positive cat policy page
We do offer euthanasia and disposal of positive cats for a modest fee.
THERE IS AN ADDITIONAL $40.00 to do surgery on POSITIVE CATS. They will be done last in line for the day and housed in isolation. We have to do additional disinfection of facility, staff and surgical area.
Our goal is to insure that the cats brought to us are well suited for a feral lifestyle and have the health and capacity to live without suffering in their colonies. If the examining veterinarian believes a cat is suffering, determines that a cat is in poor health, or believes that it is inhumane to return the cat to a feral lifestyle, we may euthanize the cat without discussing the case if no one can be reached at the contact number provided.
The caretaker and the contact person for the clinic day are required to sign a waiver confirming that you have authority to present the cat(s) for surgery, that you accept all risks of anesthesia and surgery, and that you relieve us of liability if a cat experiences complications or dies unexpectedly during our care or after leaving our clinic. We take every step to minimize risk, but anesthesia/surgery for any animal has inherent potential risks.
We will refuse future services to any person who engages in any inappropriate treatment of staff, volunteers, property, or cats. We will also refuse future services to any person who knowingly misrepresents an owned cat as a feral to received discounted services.
The policies we have instituted are intended to put the cat's needs first and foremost, as well as safeguard the wellbeing of staff members handling these animals.