Steel Valley Spay Neuter Clinic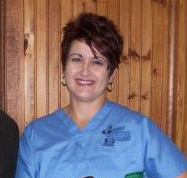 Dr. Suzanne Wilcox, a Hubbard native, with 24 years' experience practicing medicine, saw the need for low-cost spay and neuter services after dealing with the pet overpopulation problem first hand by working in the field of shelter medicine. Spaying and neutering are the answer to the pet overpopulation problem, not warehousing animals.
Despite best efforts by animal shelters in the USA, it is estimated 3 to 4 million unwanted pets are euthanized every year.
---
News
Suzanne Wilcox, DVM, of Hubbard, Ohio, has been selected by the AAEP's 50th Anniversary Committee as the My Vet Matters Contest's March honoree. Wilcox, who practices at Diamond Ridge Equine, Inc., was nominated for the award by horse owner Stacey Hotchkiss. Nearly 70 veterinarians were nominated last month. - Read More